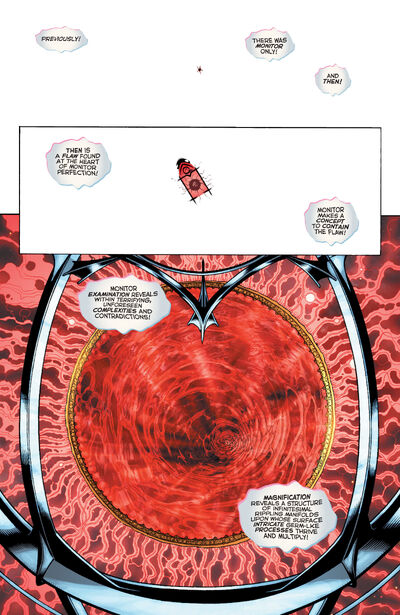 Summary
Monitor-Mind The Overvoid, also known as The Void, The Overmonitor and The Primal Monitor, is the ultimate source of all creation of the DC Comics Franchise.
An infinite stretch of pure white, The Overvoid exists beyond all understanding and levels of reality, and is the canvas of all possible creation, with the whole of DC Comics, from 0-Dimensional Bacteria to beings such as The Presence being nothing but non-existent fiction to it.
Powers and Stats:
Tier: High 1-A
Name: Monitor-Mind The Overvoid, The Void, The Overmonitor, The Primal Monitor
Origin: DC Comics
Gender: Inapplicable
Age: Irrelevant
Powers and Abilities: Reality Warping, Plot Manipulation, 4th Wall Awareness, Immortality (Type 5), Omnipresence
Attack Potency: High Outerverse level
Lifting Strength: Irrelevant
Striking Strength: High Outerversal
Durability: High Outerverse level
Stamina: Non-Applicable
Range: High Outerversal
Standard Equipment: None
Intelligence: Mindless
Weaknesses: Is still only a tool used by The Writer, and DC Comics was "drawn" on its body against its will.
Notes: The Primal Monitor seems to be the background that makes all forms of existence, and all concepts and ideas possible. The symbolized white canvas itself, and as such the ultimate supreme being of the entire DC Comics franchise, with The Presence, The Source, The Great Evil Beast, The Voice of the Godhead, The Hand of Creation, The Word, Wally The God-Boy, etcetera, as automatic subgradients of itself.
It does not appear to be omniscient, as it did not initially understand the nature to the flaw within itself/the DC multiverse. Given that said multiverse was created within ("drawn on") The Overmonitor against its will, it cannot be ranked as a Questionably Omnipotent entity. As such, The Primal Monitor is presumably only a tool used by The Writer
Gallery
Ad blocker interference detected!
Wikia is a free-to-use site that makes money from advertising. We have a modified experience for viewers using ad blockers

Wikia is not accessible if you've made further modifications. Remove the custom ad blocker rule(s) and the page will load as expected.